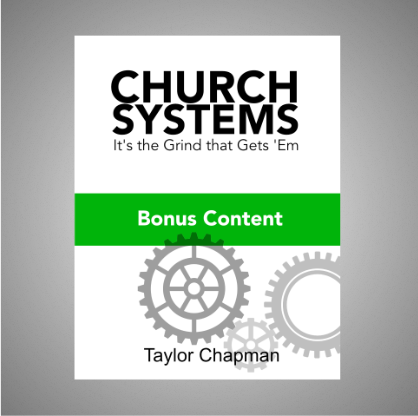 Productive staff meetings and making sure staff are gr...
This bonus content is going to enhance the way some things are done at your church. There are 5 sections to this bonus content systems guide.
As a pastor myself, there are several things that I want to assure for my staff.
Our staff meetings are on point.
Our staff is growing, healthy and confident.
Our staff is being held accountable in their department.
I don't know about you but I have been in too many meetings where things were not done or things were expected out of me that I didn't know about. Several years ago I began to put this in place. This Bonus Content guide is going to rock your world. I talk about how you can evaluate your staff, how to have a staff meeting that will produce results and so much more. You have to check this out and it is cheap. Even one of these sections (and their are 5) would be worth way more than the price we are giving it to you for.
Why do we do that? The answer is simple. I want to give you resources that add value to your team for an affordable rate. We understand the life transformation that is going to take place and we want to play a part in that as well.
About the Book
Table of Contents
Introduction
Employee Evaluation
Staff Meeting
Stage Performance Evaluation
Department Vitals
Department Timeline
Details
Author:
Taylor Chapman
List Price:

14